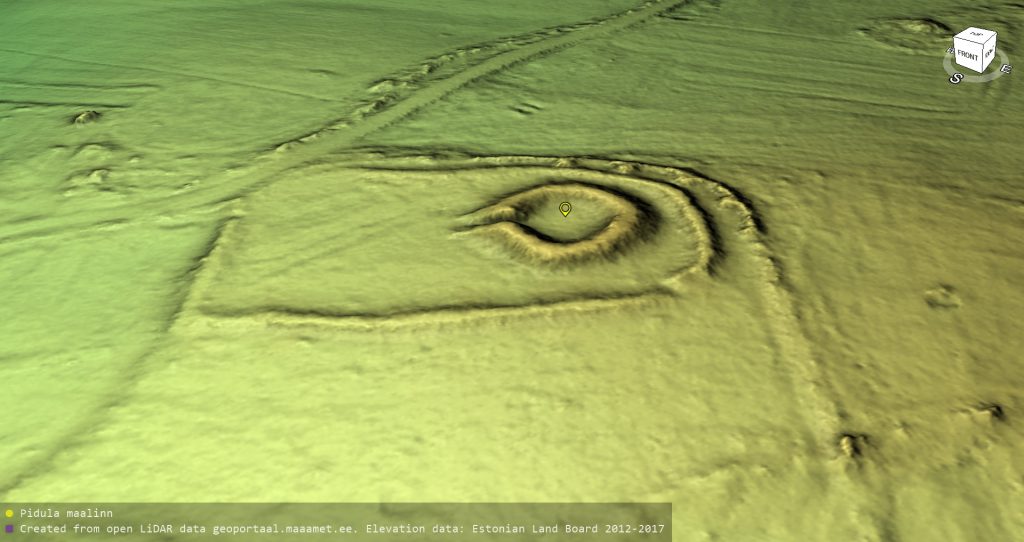 Translated by Google Translator.
Within the framework of creating a database of iron age hillforts in the European territory, a digital re-measurement of the hillforts of the Iron Age in Estonia has been completed. The survey was carried out by measuring 3D models of the hillforts created using open-access Lidar raw data.
Measurements taken using the planlaufTerrain app. During the measurements, the length, width, height, length of the plain and width of the plain were recorded. Each measurement is fixed on the screenshoot.
Simultaneously with the measurements, the 3D models of all Estonian hillforts and their related files were also optimized. Most models are now designed for an area of 500 x 500 m.
The measurement data is currently available as a file in the open data repository, as well as on Google Maps.
A digital re-measurement of the mounds of the Iron Age of Latvia has already been carried out.
---
3D model data is structured in folders:
PlanlaufTerrain – a 3D model of the hillfort that can be opened using the planlaufTerrain app.
PlanlaufTerrain_mobile – 3D model of the hill, openable via the free planlaufTerrain mobile app.
Sketchfab – files used to import a 3D model to sketchfab.com
ThreeJs – two compressed HTML files that can be opened with a standard Internet browser, containing a rotatable 3D model with and without orthophoto overlay. Rendering the model is done using the ThreeJs library.
P.s.
Here article from Jaan-Juhan Oidermaa: Läti entusiast lõi Eesti linnamägedest täpsed 3D-mudelid
---
We remind you that currently collected information is available on the websites www.latvijas-pilskalni.lv, hillforts.eu and www.senvietas.lv. The open data repository is available on the website opendata.latvijas-pilskalni.lv. An interactive map of ancient sites has been created, where you will find information related to ancient sites also in our neighboring countries.
Open data can be used freely and free of charge, as evidenced by an electronically signed document in the open data repository.
The open data citizen science project "Latvijas pilskalni" is a private initiative and works thanks to donations. The project won the annual award of the Latvian Open Technologies Association (LATA) in the private sector.